China Social Media Marketing – WeChat
No Facebook, no Twitter, no Youtube, this is the reality when it comes to China social media; they have Weibo and WeChat. With 570 million daily active users, WeChat is the king of social media in China, followed by Weibo with 126 million daily active users. WeChat goes beyond an innovative messaging app. It's now the symbol of the China digital revolution, covering +90% of the smartphones in China and seen as people's daily life tool.
1.1 billion registered WeChat accounts
600 million monthly active users (MAUs)
64.3% WeChat users that are male and 35.6% are female
8.5 million WeChat public accounts
WeChat has become a big part in the day to day lives of many of its users. 25% users check WeChat over 30 times a day. 55.2% users check WeChat over 10 times a day.
Two Types of Official Account

Subscription Account & Service Account
Subscription Account is mainly for spreading out message and information, it can send one message every 24 hours.
Service Account is normally for company or organization to provide customer service. It can send 4 messages per month and the user will receive a notification. Service Account may need a huge data base and more customized functions to support the service which may require more fund to support the function development.
Once decided, the account type cannot be changed.
We will only help client to set up Official Subscription Account.
An example of WeChat: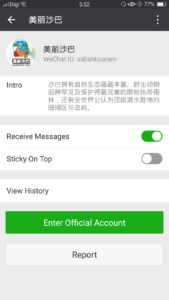 How We Can Help

To set up an Official WeChat Subscription Account – no need to register a company in China
Account can be scanned via QR code, WeChat ID & company name can be searched, name card can be shared.
Subscription account set up outside China including Malaysia, will not be seen by Chinese Subscribers
To set up customised tab & auto-reply service
Free tutorial: How to maintain & update WeChat account for up to 4 editors (limited to KL & Klang Valley area only)
To upload new posts regularly with co-created contents
To monitor and response to all enquiries & comments received
To organise Online Campaigns, prizes to be sponsored by client
To provide quarterly report to keep client updated
Some of our Customers' List
Save
Save
Save
Save